Just like Dstv and Gotv, Startimes is also a Tv broadcasting network that comprises different channels from sports to music and a lot more. However, what is the subscription for StarTimes ?, are they expensive ?, and how much is the StarTimes decoder?
These are some of the questions most people ask when they are planning to buy and use Startimes. However, in this article, we will try as much as possible to answer all the questions relating to subscriptions for StarTimes and the decoder.
What You Need to Know About Startimes Decoders
A free 30-day Nova Startimes package, an easy-to-hang 10-meter outside antenna, and one StarTimes remote control are all included with the purchase of a Startimes decoder package.
Because there are times when you might not get a strong signal to view stations in your area, it is advised to buy an external antenna, which is sold separately. A satellite receiver bearing the Startimes brand or an external antenna are your options.
How much does the StarTimes Decoder Cost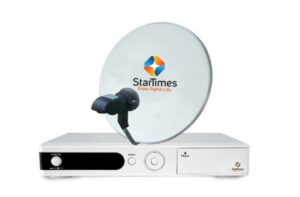 It's crucial to remember that the price of decoders and their extras fluctuates and changes over time. The best place to look for the most recent pricing information is the StarTime official website. Depending on where you buy it, the price varies.
The current decoder prices are listed below:
The StarTimes SD decoder goes between N8000 – N10000
The StarTimes HD decoder goes between N10000 – N14000
The StarTimes Combo decoder goes between N12000 – N16000
Startimes Nigeria Bouquet, Channels, And Prices
Each of the Startimes bouquets' recipients received a unique arrangement. We, therefore, offer separate bouquets for Startimes Antenna Decoders and Startimes Dish Decoders. The antenna decoder only offers three bouquets, compared to the dish bouquet's four.
Read also: How to Write a Business Plan for a Start-up
Startimes Antenna Decoder Bouquet
There are 3 bouquets for Start Antenna Decoder and they are Nova Bouquet, Basic Bouquet, and Classic Bouquet.
1. Startimes Nova Bouquet (N900/month)
The Nova Bouquet for Startimes Antenna costs N900 per month and gives you access to 34 TV channels. Some of the channels included are:
1. JIMJAM
2. ST DADIN KOWA
3. E-STARS
4. ORISUN
5. FARIN WATA
6. NTA KNOWLEDGE
7. WAP TV
8. CGTN
9. NTA HAUSA
10. NTA YORUBA
11. NTA IGBO
12. LIBERTY
13. AMC
14. ST SPORTS FOCUS
15. ST ZONE
16. AWA TV
17. ST KUNGFU
18. EMMANUEL TV
19. TVBC
20. RAVE TV
21. NIGBATI
22. PLUS TV AFRICA
2. Startimes Basic Bouquet (N1700/month)
The Basic Bouquet for Startimes Antenna costs N1700 per month and gives you access to 77 TV channels. Some of the channels included are:
1. ST NOVELA E
2. BBC WORLD NEWS
3. E. TV
4. STAR PLUS
5. ST RISE
6. NTA E
7. NICKELODEON
8. TBN
9. ZEE CINEMA
10. AL JAZEERA
11. NTA PARLIAMENTARY
12. AMC MOVIES
13. ST SPORTS PREMIUM
14. CGTN DOCUMENTARY
15. ST GOSPEL
16. ST SPORTS ARENA
17. ST SINO DRAMA
18. ST YORUBA
19. ST WORLD FOOTBALL HD
20. CNBC
21. ISI MBIDO
22. ST NAIJA
23. AREWA 24
24. STAR LIFE
25. ST SPORTS LIFE
3. Startimes Classic Bouquet (N2500/month)
The Classic Bouquet for Startimes Antenna costs N2500 per month and gives you access to 105 TV channels. Some of the channels included are:
1. FINE LIVING
2. FOX NEWS
3. MTV BASE
4. ST BOLLYWOOD
5. EUROSPORT NEWS
6. ID
7. E!
8. AMC SERIES
9. ST ADEPA
10. NGW
11. NGC
12. ESPN
13. FOX
Startimes Dish Decoder Bouquet
For the Startimes Dish, there are 4 bouquets which are Nova Bouquet, Smart Bouquet, Super Bouquet, and Chinese Bouquet.
1. Startimes Nova Bouquet (N900/month)
The Nova Bouquet for Startimes Dish costs N900 per month and gives you access to 50 TV channels. Some of the channels included are:
1. E. TV
2. ST DADIN KOWA
3. SILVERBIRD TV
4. CHANNELS
5. E-STARS
6. ORISUN
7. FARIN WATA
8. TVC NEWS
9. IQRAA
10. WAP TV
11. AIT
12. WAZOBIA TV
13. DOVE TV
14. DA VINCI
15. SMILE OF A CHILD
16. ST SWAHILI
17. ST SPORTS FOCUS
18. ST ZONE
19. AMC MOVIES
20. NBS TV
21. CGTN DOCUMENTARY
22. MINDSET LEARN
23. ST GOSPEL
24. CHANNEL TEN
25. CNC WORLD
26. CCTV 4
27. ST KUNGFU
28. EMMANUEL TV
29. CGTN F
30. NIGBATI
31. PLUS TV AFRICA
32. NTA SPORTS 24
2. Startimes Smart Bouquet (N2200/month)
The Smart Bouquet for Startimes Dish costs N2200 per month and gives you access to 87 TV channels. Some of the channels included are:
1. FINE LIVING
2. JIMJAM
3. BBC WORLD NEWS
4. ST AFRICA
5. ST BOLLYWOOD
6. ST RISE
7. NICKELODEON
8. NIGEZIE
9. ZEE CINEMA
10. AL JAZEERA
11. FRANCE 24 E
12. FASHION ONE
13. ST SA MUSIC
14. ST SPORTS ARENA
15. ST SINO DRAMA
16. E!
17. AFRICA NEWS
18. ST YORUBA
19. ISI MBIDO
20. ST NAIJA
21. TRACE MZIKI
22. AREWA 24
23. ST KIDS
24. EWTN
25. DW
26. STAR LIFE
27. AMC SERIES
28. ST SPORTS LIFE
29. ST ADEPA
30. NGW
31. ESPN
32. ST NOVELA E
3. Startimes Super Bouquet (N4200/month)
The Super Bouquet for Startimes Dish costs N4200 per month and gives you access to 107 TV channels. Some of the channels included are:
1. BLOOMBERG
2. FOX NEWS
3. MSNBC
4. MTV BASE
5. STAR GOLD
6. ST MOVIES PLUS
7. BABY TV
8. ST SPORTS PREMIUM
9. ST SOUL
10. FUEL TV
11. CLASSICA
12. ID
13. ST WORLD FOOTBALL HD
14. ST NOVELA E PLUS
15. ST NOLLYWOOD PLUS
16. EBONY LIFE
17. NGC
18. FOX
4. Startimes Chinese Bouquet (N6600/month)
The Chinese Bouquet for Startimes Dish costs N6600 per month and gives you access to 127 TV channels. Some of the channels included are:
1. 福建卫视
2. 浙江卫视
3. CHINA MOVIES CHANNEL
4. 北京卫视
5. 天津卫视
6. PHOENIX INFO
7. CCTV 4
8. CTI ASIA
9. 凤凰CNE
10. ST KUNGFU
11. HUNAN WORLD
12. 江苏卫视
13. 东方卫视
14. CCTV 娱乐
15. 南方卫视
16. 中国影视
17. CCTV 13
18. CCTV 6
19. CCTV 5+
20. CCTV 9