Block is the quickest method to end a problematic or possibly tense discussion. On messaging platforms like Snapchat, we do sometimes unintentionally block someone out of a spur-of-the-moment rage.
It's okay to block someone even when you didn't really mean to. You might decide to get in touch again but may not know exactly how to go about it. You're not the only one, there was a time I was trying to figure out how to unblock Someone.
The good news is you've come to the correct spot, as long as your iPhone or Android smartphone is still on and connected to the internet, just follow the instructions in this article to unblock anyone on Snapchat.
But then note that you can only unblock someone you blocked. If you don't know how to block someone on Snapchat, we've offered instructions on how to block someone on Snapchat.
This is in fact the first thing this article will be you solve before we can proceed to how to unblock someone on Snapchat.
Read Also: How to pin someone on Snapchat | Guides with images
How to Block Someone on Snapchat
If you want to block someone who is bothering you on Snapchat, use the following actions:
1. Long-press the person you want to block and choose "More" from the conversations screen, which you can get from the bottom navigation bar. Tap "Block" on the enlarged context menu to stop communicating with that individual.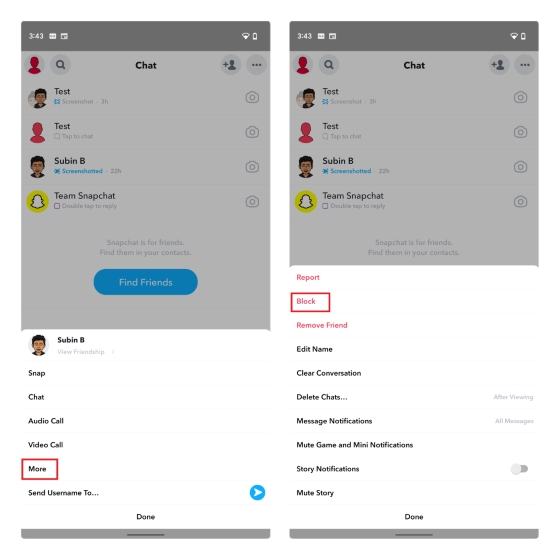 2. A confirmation popup will now appear, prompting you to double-check that you indeed wish to block the individual. Once more tapping "Block," you're done. The person you banned won't be able to message you on Snapchat anymore.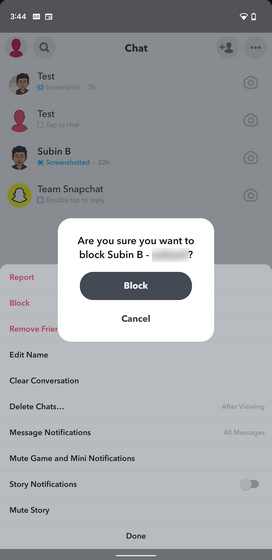 What happens when you block someone on Snapchat
On Snapchat, blocking someone prevents them from seeing your Story or Group Charms. They won't be able to speak with you or send you Snaps either.
Therefore, blocking will cut them off from you if they don't have another option to get in touch with you and aren't friends with you on another social networking platform.
On Snapchat, the key distinction between blocking someone and deleting their friend is this: Unlike deleting friends, blocking prevents others from even seeing your publicly posted stuff.
How to unblock someone on Snapchat
1. Launch Snapchat and click on the Bitmoji icon in the top-left corner of the app. Press the Settings button in the top-right corner of your profile page as it loads.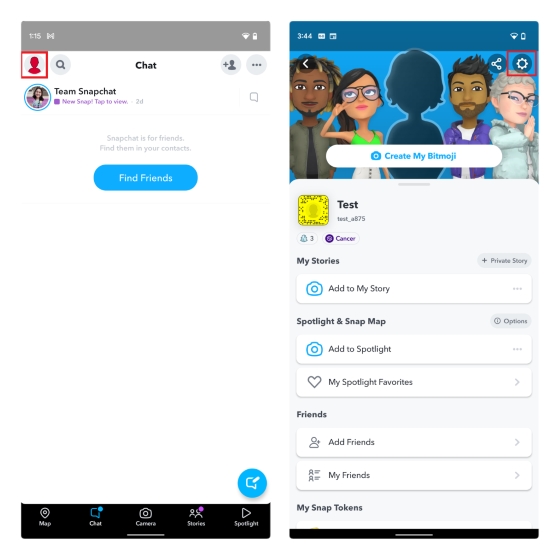 2. Locate "Blocked" under "Account Actions" by scrolling down and tapping on it. You will now see a list of every Snapchat user you've ever banned. To unblock the individual, click the "x" button next to their Snapchat display name.
3. Select "Yes" from the confirmation box that opens, and you're done. You've been able to unblock the user on Snapchat.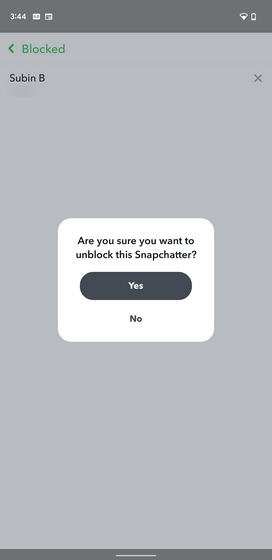 What to Do After Unblocking Someone
By blocking a user, you stop communicating with them and they are deleted from your Friends list. You must look for the friend and re-add them after unblocking them.
Enter the username in the top search area, then click Add to the right of the user name and profile image. The buddy must also add you back if they are not a public user.
More Information Regarding Snapchat Unblocking
The questions and answers that are most often asked regarding unblocking someone on Snapchat are listed below.
How Limited Is Blocking and Unblocking Users?
Users who re-add friends they previously removed or blacklisted may be subject to time limits from Snapchat. So, Snapchat could restrict you from re-adding them for 24 hours if you banned, unblocked, and attempted to add them again quickly.
Does Anyone You've Blocked Know When You Unblock Them?
Users are not notified when you block or unblock them on Snapchat, but they may find it out. For instance, if someone discovers that your account has vanished, they can use another Snapchat account to look for you and discover that you were banned. They could understand that you're adding them back if they see a fresh friend request from you.
Is There an Alternative to Snapchat Blocking?
Silence alerts rather than temporarily severing all connections with someone and then re-adding them as friends. Any buddy whose setting is activated stays on your Friends list. You'll continue to get snaps and conversations but none of the alerts goes along with them.
Select the picture next to a user's name to access their contact page and turn off their alerts. Once you're on their contact page, choose Message Notifications from the three-diamond menu at the top. Select Silent.
Enjoy the flexibility of reading your buddy's snaps and conversations at your convenience by turning this feature on or off whenever you want without your friend ever knowing.
After unblocking someone, are their Snapchat messages still visible?
The recipient's end and the sender's end both have access to the previous conversation history. It's important to note, however, that when someone blocks you, your messages won't be transmitted until they unblock you.
How can I tell if someone on Snapchat has blocked me?
By looking through your contact list and doing a username search, you may determine whether someone has banned you. To see whether your friend's username shows in the search results, you may alternatively ask them or use a different account.
How can I enable Snapchat's Dark Mode?
On an iPhone or iPad, press your profile icon, go to Settings > App Appearance, and then choose Always Dark to activate Snapchat's Dark Mode. Go to Settings > System > Developer Options on an Android device and toggle the Override force-dark slider to On.
What does Snapchat's pending status mean?
Pending on Snapchat denotes a message that is having trouble and is now pending. This error message indicates that Snapchat was unable to deliver a message. It could display if the buddy has banned or unfriended you, or if they haven't yet acknowledged your friend request. It could also indicate that your gadget isn't online.
Conclusion
Snapchat users may be blocked or unblocked in a pretty simple manner, however, new users could have trouble finding the unblocking feature. Whether you were one of those users, let us know in the comments below if you found this tutorial to be useful.
Last Updated on September 1, 2023 by Wisdom John